Take a little island time, slow down and enjoy the view from Galveston, Texas
Boat-Friendly Vacation Guide: Galveston, Texas
If your motto is "boat goes where the wind blows," maybe it'll blow you on over to Galveston, Texas. Take a little island time, slow down and enjoy the view from this Texas town. Galveston Island offers 32 miles of sun-drenched beaches, so when it comes to boat-friendly travel you can rest assured you have plenty of options for floating and boating.
Being a Gulf Coast town, life in Galveston naturally revolves around the water. When you're out cruising the waterways, it's business as usual for resident dolphin pods in these coastal waters. It's not unusual to see them swimming and playing near the shoreline in their natural habitat. When you really want to get up close and personal, take your boat-friendly vacation a little further by renting kayaks or standup paddleboards for the day. Not only can you paddle to areas not accessible by boat, but you also may get a closer peek at these majestic coastal creatures.
They say everything is bigger in Texas, and when it comes to the sunrises and sunsets, we have to agree! The best place to experience these spectacular displays of oranges and pinks? By boat, of course. Cast off from a Galveston marina for an early-morning fishing trip to reel in amberjack, grouper, sailfish and even tuna. Then, take in the sunrise by boat. There's no better way to start the day. As evening begins to roll around, drop anchor nearshore and watch the sun set on the Gulf of Mexico horizon.
6 Top Galveston, Texas Boat Launches and Marinas
One of the most accommodating Galveston marinas is the Galveston Yacht Basin. This marina has been in operation for more than 40 years and is located only minutes from the Gulf of Mexico, just off the Galveston Ship Channel. The Galveston Yacht Basin offers a great location for access to beaches and the city's historical downtown area. The marina offers 370 covered slips, 127 uncovered slips, floating docks, ship store and bait camp and a fueling station. Twenty-four hour fuel service is also available. The marina is located at 715 N. Holiday Drive, Galveston and can be reached at 409-765-3000.
Pelican Rest Marina is part of a high-end marina complex located in the center of a growing part of Galveston on the north side of Offatts Bayou. The marina offers a tropical oasis filled with palm trees and tropical plants. Aside from the atmosphere, the marina boasts state-of-the-art concrete floating docks. If you'll be floating into Galveston aboard a yacht, this is the place to dock it! Slips can accommodate boats with a draft of 22 feet! The marina offers an onsite bait and tackle shop, complete with fresh seafood, bait, ice, tackle and marina supplies. Pelican Rest Marina is located at 7819 Broadway St., Galveston and can be reached at 409-744-2618.
Sunset Marina at Offatts Bayou https://www.sunsetmarinaatoffattsbayou.com/ is located at 9415 Teichman Road, Galveston and can be reached at 409-682-5853. Here, you'll find ample space for boat and trailer storage, as well as a boat ramp and wet slips. Guests can also drop a line from their fishing pier.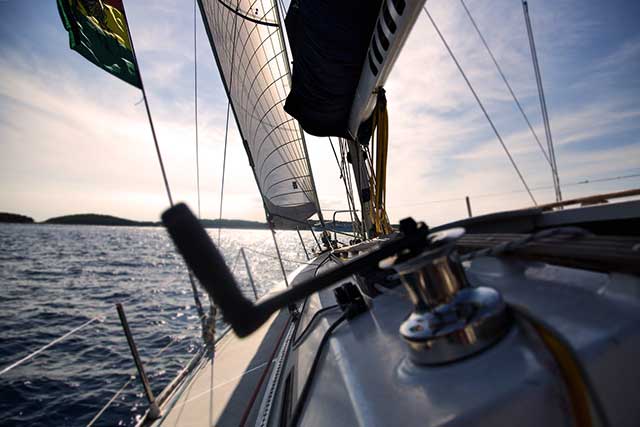 It may be located at Pirate's Cove, but there's nothing to fear at the Galveston Marina.https://www.galvestonmarina.com/ Located in Galveston Island's West Bay, the marina offer easy access to championship fishing and waterway exploration. Transient boat slips are equipped with fresh water, electricity and marine grade fuel availability. Galveston Marina can be reached at 409-632-0233 and is located at 14302 Stewart Road B, Galvesto
Lee and Joe Jamail Bay Park is located at 1600 61st Street, Galveston. The park can be reached at 409-934-8100. It's said that this launch is where most young anglers' fishing obsession begins. The park offers free truck and trailer parking, free boat launch, covered picnic area, grills and restrooms.
The West End Marina https://westendmarina.com/west-end-marina/ is the perfect spot to tie up your boat after a day on the water. The marina features two casual restaurants and picturesque views of the bay. The West End Marina is located at 21706 Burnet Dr., Galveston and can be reached at 409-497-4152.
Related: Boat Friendly Vacation Guide: Tampa Bay, FL
Great Galveston Boat-Friendly Restaurants
Feast your eyes on a sunset to remember and your appetite on a meal to savor at Waterman Restaurant.https://www.waterman-galveston.com/ Oversized outdoor decks overlook Galveston Bay. The restaurant serves fresh, Gulf seafood. The causal feel can be attributed to 10,000 square feet of antique long leaf pine adorning the restaurant. The wood was salvaged from a 100-year-old cotton warehouse that was part of Galveston's "glory days." Reserve your table at Waterman Restaurant by calling 409-632-0233. The restaurant is located at 14302 Stewart Road, Galveston.
Coast into the West End Marina, tie up your boat and be treated to your choice of several restaurants. For casual dining, stop in The Sandbar Grille. Enjoy tropical drinks, salads, burgers, sandwiches and seafood favorites like fried shrimp. If you come in the evening, stay for the live music and karaoke! Also located at the same marina, The West End Restaurant offers fine dining and reservations are recommended. When you're in the mood upscale food in a relaxed atmosphere with waterfront views, The West End Restaurant gets high marks. The marina and restaurants are located at 21706 Burnet Dr., Galveston.
Located at Pelican Rest Marina, 7809 Broadway, Galveston, you'll want to wear your stretchy pants to Number 13 Prime Steak and Seafood. https://www.number13steak.com/ Upscale dining and a large wine selection makes the restaurant ideal for date night after a sunset boat ride.
Related: Three Fun Cities to Plan a Boating Vacation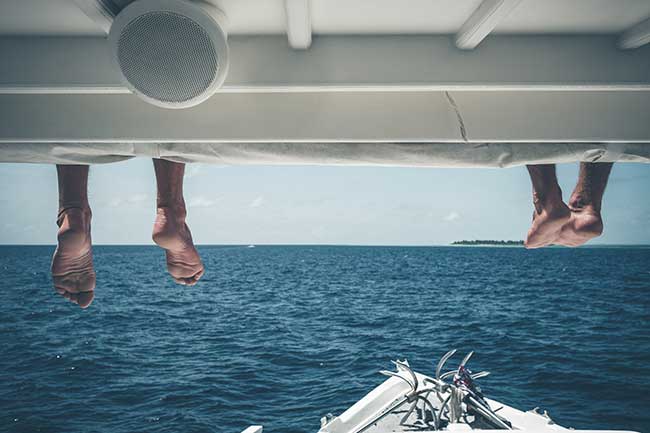 Where to Stay: Boat-Friendly Vacation Rentals in Galveston
Canal and Bayfront homes are the order of the day on a Galveston Island vacation, https://boatfriendly.com/listings/list?Search[city]=Galveston making it the perfect destination for a boat-friendly vacation. Many canal vacation homes offer boat slips and lifts, so it's easy to store your vessel for a fun a day on the water. Reserve a boat-friendly rental with a deck on the water and enjoy Texas sunrises and sunsets during your vacation.
When you're packing for your Galveston boat-friendly vacation, don't forget these six fun things to bring along on your boat. https://boatfriendly.com/blogs/view/id/90