BoatFriendly.com
Part of the CLEARle.com Network of websites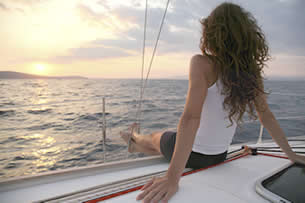 Owners and managers of homes, condos, villas, and other properties that have boat accommodations onsite or close by can keep their rental calendars filled, and boost income, by targeting listings to renters who are challenged to properties that fit in with their boating lifestyle.
Help a Boater, Get a Renter
Boaters looking for short and long-term rentals, either to live in or to vacation at, have a hard time locating properties that offer parking for their boats as well as convenient water access. Owners and managers of homes, apartments, condos, villas, and hotel complexes that offer features like on-site boat parking and proximity to boat docks can fill their rentals quickly, and keep a constant income stream, by marketing directly to these niche renters who will often pay higher rents and increased deposits to have their needs met.
Boat owners want to bring their boats with them when they rent a new home or go away on a trip. They struggle to find a place where they can park their boat on-property or park it so it's covered, and they search listing after listing just to find a rental that might offer easy access to great boat docks or perks like useable power sources for their vessels. If you have a property to rent for a month, 2 months, 6 months, and a month-to-month basis, and you have the boat-friendly features this niche rental market is searching for, list your property on BoatFriendly.com and connect with these qualified and eager renters to fill your vacancy fast.
Millions of boat owners are desperate for your boat-friendly property. To get these leads and potential renters, you simply need to fill out a short set-up questionnaire that will help further target the renters who need your rental. Questions like "Do you have a boat dock on site?" or "Where can a renter park a boat?" allow you to quickly connect with renters searching on BoatFriendly.com for properties with certain features. Upload property descriptions, photos, pricing, and restrictions. For added exposure, opt-in to other CLEARLe niche rental websites during the setup process, such as PetFriendlyRentalsByOwner.com and MonthlyRentalsByOwner.com. Need to make a change to a listing? Enter it in one central hub to take effect across all niche websites.
Reach Eager Renters – Boat owners and boating enthusiasts have many challenges to overcome. Reach them directly and show them you can solve their needs with your property.
Fill Your Vacancies – Keep your rental calendar filled with short and long-term renters who constantly struggle to find boat-friendly properties with benefits like on-site boat parking, low-fee slip rental nearby, good waterway access within a short distance, and helpful property owners who offer useful information on local boat policies.
No-Hassle Administration – List your boat-friendly property once, for a flat fee, and forget about the pain associated with trying to market to the masses. BoatFriendly.com does the work for you by placing you in front of qualified renters and letting you easily manage your listing on other niche websites.
Start Listing Now